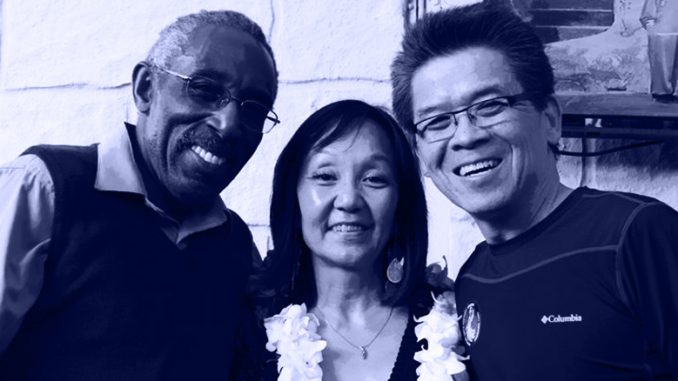 Our instructors are passionate martial artists and dedicated, skilled teachers. They strive to support, inspire, and challenge every student in the White Lotus family.
We are a complete martial arts center offering a range of classes the whole family can participate in. Please come by and check out our great atmosphere that will bring out the best in you!
Email us to schedule a visit or call 818-390-0826.
---
Master Carrie Ogawa-Wong
A 2005 inductee into the Martial Arts History Museum Hall of Fame, Master Carrie is an energetic mother, wife, martial artist, author, instructor, and competitor. She has managed to balance her heavy schedule to enjoy her love for the martial arts and her family.
Her credits include training videos, TV and film roles, live performances, and several feature articles in Inside Kung Fu. With her husband, Master Douglas Wong, Master Carrie has trained actors such as Jason Scott Lee, Kevin Sorbo, Lucy Lawless, and Ryan Gosling.
Master Carrie teaches Children's Kung Fu, Adult Kung Fu, Tai Chi Chuan, and private classes. In addition to White Lotus Kung Fu, she has studied:
Aikido under Kensho Furuya
White Tiger under Master Doo Wai
Taiji under Master Wen-Mei Yu
Five Animal Sil Lum Kung Fu and Yau Kung Mon under Master Wilson Quan
Five Animal Sil Lum Kung Fu and Matrix under Master Tom Chan
Matrix under Master Al Garza
Kamishin Ryu (karate)
Ballet, modern dance, and tap
---
Master Jennings
Master Phil Jennings has over 30 years experience in martial arts and is a Black Sash (Level 7) in White Lotus Kung Fu. He has been teaching for the past 20 years here at the studio and currently assists with the instruction in the Children's class and Tai Chi class.
Master Jennings has competed and judged in local and international tournaments. He formerly trained in Judo.
---
Master Michael Tom
Master Michael Tom has over 45 years experience in martial arts. He also holds black belts in Aikido and Kempo, and is a Level 6 Black Sash in White Lotus Kung Fu. He has also trained in Filipino Martial Arts and various other styles of martial arts.
Master Tom has competed and judged in many local and International competitions. Master Tom has taught numerous self defense and martial arts seminars to students of all ages and skill levels.
---
Sifu Joel Lederman
Sifu Joel has over 11 years experience at the studio. He holds the rank of Black Sash (Level 4). He wrestled during college and played Rugby during Graduate school prior to joining the studio. He also does fire performances implementing his knowledge of weaponry from the studio.